Conservation
Becklands Farm has been monitored by the RSPB to determine how many species of bird the farm hosts. We have counted 47 ourselves and still counting.We are currently in our second Countryside Stewardship Scheme (CSS) of landscape improvements and maintenance. which lasts until 2022. Parts of the farm land are kept wild for the preservation of wildlife and we leave wide, wild edges uncut in arable fields. The CSS also helped us to lay of 1,000 metres of hedges in the traditional way, dredge and reshape two ponds and replace metal gates with wooden ones. We have also planted 300 metres of new hedges and many trees. We are currently improving the diversity of wild flowers in our hay meadows.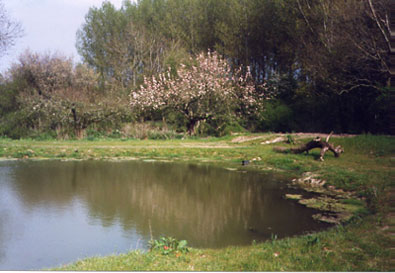 Wildlife to be found at Becklands includes deer, wild geese, pheasants, partridge, rabbits, buzzards, sparrow hawks and a large number of other birds. Our large badger sett is known to have been used for at least the past 60 years. and probably dates back many centuries.
Our approach to farming is one of living on the land and caring for it holistically while making the least possible impact on it. We use coppiced wood for staking saplings, in the garden and vegetable patch. Our poplar wood (grown as a cash crop 30 years ago) is used for household items, henhouses and our cattle shed.
'

We do not inherit the world form our parents; we borrow it from our children'
native Canadian saying
'Small is beautiful'
Schumacher